Introduction to Golf in Ireland
Old Country Golf & Tours is made up of an enthusiastic group of people all sharing a deep passion for Ireland and in particular Golf in Ireland.
Golf in Ireland and Irish Golf Courses
Ireland has some of the most talked about and majestic golf courses in the world and we are home to a third of the world's natural links golf courses, an impressive feat indeed and just as impressive our small Island is home to over 400 golf clubs.  Little wonder then that Ireland is a Mecca for golf enthusiasts from around the world.  It's got all the ingredients with the typical Irish golf course offering fantastic golf, a beautiful setting, great service and welcoming people.
Golf in Ireland has a long history.  The first officially organised golf club in Ireland – Royal Belfast – founded in 1881, saw the popularity of the game spread across the country over the next decade resulting in a further 18 clubs opening including the famous links of Royal Co Down and Royal Portrush.  Over the ensuing ten years up to 1901 golf clubs began to spring up across the country with approximately seventy additional courses appearing throughout the Emerald Isle.  Some of the great Irish golf course links that are world famous today emerged during this period including Ballybunion, Lahinch, Rosapenna and Portmarnock.
Over the past hundred years, the perception of golf in Ireland has shifted from being a game of the rich and famous to being a sport that anyone – men, women, young and old – can play and enjoy, a game for everyone.   The golf season for the  Irish golf course in the main usually begins in April and you can keep swinging until late October.  The actual opening dates vary from season-to-season, and from golf course to golf course depending on weather, course development and maintenance etc. Some courses remain open all year round but generally winter rules would be in play from November to Mid/Late March. In summer, daylight hours stretch up to 10pm so two rounds can easily fit into a day.
Check out the list opposite of some of our most spectacular and popular golf courses.  Read about the course and what previous visitors had to say.
Listed here are the top courses together with some of our hidden gems in each area, if there is a course you would like to include in your trip that is not listed please mention it in your enquiry.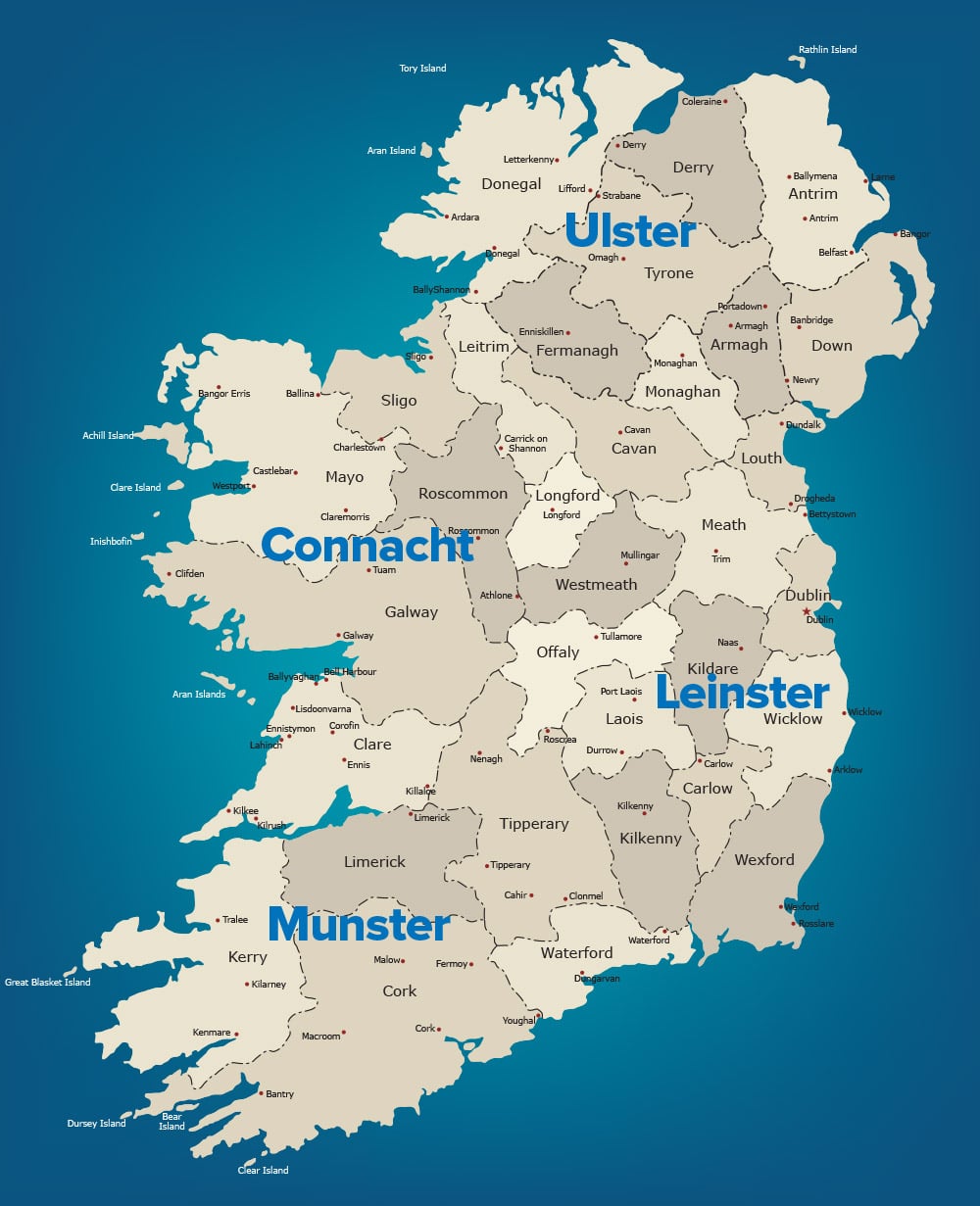 South (Province of Munster)
East (Province of Leinster)
North (Province of Ulster)
West (Province of Connaught)