County Longford Ireland Famous Landmarks
Abbeyshrule Cistercian Abbey
Abbeyshrule Cistercian Abbey
Abbeyshrule Cistercian Abbey
Founded in 1150 Abbeyshrule Cistercian Abbey in County Longford Ireland is one of the first Cistercian abbeys established in Ireland during the 12th century. Among the ruins of the Abbey, visitors will find the east end of the church and a fine pointed doorway.
Carrigglas in Longford Ireland is one of the last remaining walled estates in Ireland. With 660 acres of green pastures and mature woodlands, the manor was commissioned by Thomas Lefroy (of the French Huguenot Lefroy Family) in 1837 and was constructed in the Victorian Gothic Style by architect Daniel Robertson. The famous character of Mr Darcy in Jane Austen classic Pride and Prejudice is said to be based on Thomas Lefroy with whom Jane Austen is said to have been romantically linked.
Corlea Trackway Visitor Centre
Located in Kenagh County Longford Ireland, The Corlea Trackway Visitor Centre is sited on an ancient oak road constructed during the Irish Iron Age in 148 BC. This 18m stretch of roadway in County Longford is the largest of its type known from prehistoric Europe. The visitor centre at Corlea is a great base to explore the surrounding landscape or a splendid stop for a family picnic.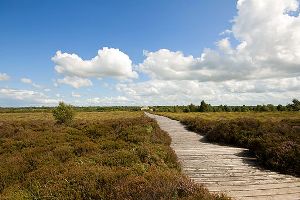 Located in the heart of Ireland, Longford Town is situated on the south bank of Camlin River.  The town is an ideal base for exploring the Lakeland district of Longford Ireland's midlands and it is also the county town of County Longford. Interesting attractions include two 19th century churches, St Mels Cathedral and St John's Church.