Monaghan Ireland – Authentic Ireland – County Monaghan
Attractions in Monaghan Ireland Quick Links
TOWNS IN MONAGHAN IRELAND QUICK LINKS
Monaghan County Museum and Gallery
The Monaghan County Museum and Gallery gives visitors a good sense of the County Monaghan's history with the regions development from the stone age on-wards reflected in the exhibits.  The gallery features some beautiful paintings for the 18th century as well as modern day art.  The Monaghan County Museum and Gallery has been awarded the Council of Europe Museum Prize and access to the museum is free.
Patrick Kavanagh Rural and Literary Resource Centre
The Patrick Kavanagh Rural and Literary Resource Centre in Monaghan Ireland is dedicated to the Irish Poet Patrick Kavanagh.  Kavanagh, who is considered one of the great Irish poets of the 20thcentury, was born in October of 1904 in Inniskeen County Monaghan and the centre features permanent exhibits portraying Kavanagh's work and life story in an authentic Ireland.
                                                        On Raglan Road on an autumn day I met her first and knew
                                                        That her dark hair would weave a snare that I might one day rue;
                                                        I saw the danger, yet I walked along the enchanted way,
                                                        And I said, let grief be a fallen leaf at the dawning of the day.
Excerpt from Raglan Road by Patrick Kavanagh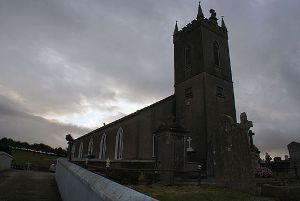 Rossmore Forest Park in Monaghan Ireland is situated approx 2.2 miles (3.5km) from Monaghan town and it is fun by the Irish States Forestry.  The park has many charming forest walks ranging from 2 to 4 miles along with historic sites of authentic Ireland, a nature trail, fishing and picnic spots.
Monaghan town, located in the north of County Monaghan Ireland has a lively nightlife and superb restaurants.  It is the county town County Monaghan and has a population of approximately 6000.  The town centre in Monaghan Town is made up of 4 squares, Old Cross Square, The Diamond Square, Church Square and Market Square (also know and Market Street).  The County Museum in the town is well worth a look and visitors can avail of a Heritage Train which is signposted around the town.