Laois Ireland Top Attractions
LAOIS IRELAND TOP ATTRACTIONS QUICK LINKS
TOWNS IN LAOIS IRELAND QUICK LINKS
Designed in 1790 by James Gandon (the British architect who also designed the Custom House in Dublin) the building of Emo Court in County Laois Ireland took approx 70 years to complete. This huge neo-classical residence was lovingly restored under the ownership of Major Cholmeley- Harrison who purchased the mansion in 1967 from the Jesuits who had previously been using it as a school. In 1994 the Major generously made a gift of the house to the Irish State and he remained in residence in Emo Court until his death in 2008.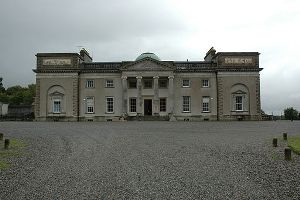 Located just outside Portlaoise in County Laois Ireland is the Rock of Dunamase a huge limestone outcrop with magnificent views over the surrounding areas such as the valley of the O'Moores. Despite the castle's ruined conditions visitors will still get a feeling of its former glory and the climb to the historic site is well worth it to appreciate the significance of the fort and for the incredible views.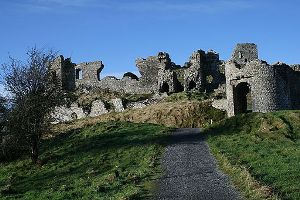 In contrast with the surrounding flat plains and bogs of the County Laois Ireland area, the Slieve Bloom Mountain range provides an opportunity for a mountain trek on one of the marked paths allowing visitors to explore the beauty of the area. The Sieve Bloom Way is a 30km (19 Mile) trek that takes visitors around the Mountains taking in waterfalls and glens.
Located approximately 14km (9 miles) from Portlaoise, Abbeyleix in County Laois Ireland was established as a town in the 18th century and is considered among the finest planned towns in the country. Visitors to Abbeyleix should take in Heritage House, which has visitor information and is home to an exhibition on Irish history and the Abbeyleix area.
There has been a community existing at Mountmellick since the 15th century but the town as we see it today had its foundations laid in the 17th century by the Society of Friends (Quakers) and was a settlement for recent converts. Visitors to Mountmellick in County Laois Ireland can follow a Heritage walking trail and take in the community run museum.
Portarlington was founded in 1666, by Sir Henry Bennet, a former Home Secretary to Charles II. Following the failure of Sir Henry's English colony the town the lands were passed to General Rouvigney, Earl of Galway who established a colony of French Huguenots in 1694. The Huguenot refugees driven from France thrived in their new home in Portarlington County Laois Ireland and the French language was used in church services until the 1820s.
Portlaoise is the county capital and administrative centre of County Laois Ireland, the town was also known as Maryborough from 1557 until Irish Independence in 1922. Portlaoise is a bustling commercial centre, with a variety of restaurants, shops, pubs and clubs.