Places to Go and Attractions in County Westmeath
ATTRACTIONS IN WESTMEATH IRELAND QUICK LINKS
TOWNS IN WESTMEATH IRELAND QUICK LINKS
Belvedere House and Gardens
Located on the shore of Lough Ennell near Mulligar in County Westmeath Ireland, Belvedere House and Gardens is a fully restored Georgian house and walled gardens owned and operated by Westmeath County Council and is one of the recommended places to go in Ireland for those interested in Georgian design.  Belvedere House was designed by Palladian architect Richard Castle and originally built as a hunting lodge for the 1st Earl of Belvedere in 1740. It appealed to the 1st Earl so much he decided to use it as his primary residence.
Situated near Lough Lene the picturesque Fore Valley and the small village of Fore are located next to the ruin of Fore Abbey in County Westmeath Ireland.  The Abbey at Fore is the only remaining Benedictine Abbey in the country.  The folklore surrounding the Abbey and its "Seven Wonders of Fore" is largely associated with St Feichin who founded Fore Abbey in the 7th Century (around the year 630). The Seven Wonders of Fore are all within walking distance of the village and the myths and legends surrounding St Feichin and the Wonders make exploring the area a fun adventure.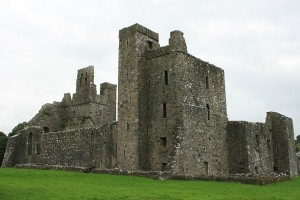 Tullynally Castle and Gardens
Dating back to the 17th Century Tullynally Castle, in County Westmeath Ireland, with its many turrets and battlements is one of Ireland's largest castles.  Tullynally Castle is still a private home but tours of the main rooms in the castle are available to groups by previous arrangements.  The gardens, are open to the public and tickets can be purchased at the tearooms located at the castle courtyard.  Occupying over 12 acres the gardens home to 2 ornamental lakes, extensive woodland and walled gardens and both castle and gardens are popular places to go in Ireland when visiting County Westmeath.
The historic walled town of Athlone is the largest town in County Westmeath Ireland and also the largest town in the midlands area.  Situated on the banks of the River Shannon and on the boarder of two Counties (Westmeath and Roscommon), Athlone also links the Provinces of Leinster and Connaught. The town is also at the core of Irelands Lakeland's region with Lough Ree found just north of Athlone and the area is a popular location for water based activities including boating fishing and wind surfing.  Points of interest include the 13thcentury Athlone Castle and Luan Gallery.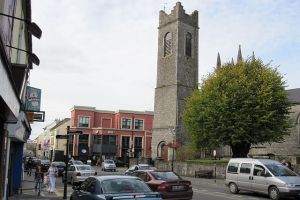 Mullingar, the County town of County Westmeath Ireland holds its name from the Gaelic An Muileann gCearr, meaning the left-handed mill.  The main attractions and places to go in Ireland while in the Mullingar area are the beautiful nearby lakes, Lough Ennell, Lough Lenem, Lough Owel and Lough Derravaragh (best known for its appearance in the Irish folklore story The Children of Lir).  The lakes offer all manner of outdoor activities and Mullingar also has several superb restaurants and lively pubs.