The 5 Star Lough Erne Resort in Enniskillen, County Fermanagh has ranked number 1 on Huffington Posts list of Best Hotels for Winter 2014/15, it is superb to see Huffington Post Travel Ireland highlighted once again!
The article, by travel writer Richard Bangs, lists the 11 Best Hotels for Winter 2014/15. While Bangs acknowledges the list of hotels is "hardly comprehensive and is highly personal" he goes on to say that "it is a catalogue of those I found special and extreme in comfort".
Bangs says of Lough Erne Resort:
"I love a surprise, and what a revelation to find a hotel of this caliber and style in the quiet countryside of Northern Ireland
Sometimes when a landscape broods music heard faintly on the edge of sound, others beyond notice, and seek their own muse in that place.
And so such it seemed when the leaders of the free world chose the Lough Erne Resort for the 2013 G8 Summit. Such a gathering in Northern Ireland would have been inconceivable during The Troubles, but now the place has the draw of peace and bonny fairways, as well as identical lodges so none of the leaders could be jealous over the size or amenities of their peers.
I make my way to the castle-like resort, set on its own 600-acre peninsula, and a sign that instructs, "Ssshh….Bats Sleeping."
After checking into the Old-World style room, I pass through the Thai Spa (if anything, Northern Ireland relishes appositions) and stop in the Blaney Bar. I sidle up to the rail across from a flickering beech log fire and order up one of the 101 Irish whiskies on the shelf, "on the rocks." But the barkeep refuses. "You can't order whiskey with ice here," he scolds. "Remember the Titanic," and he slides over a straight-up glass, leaving me to drown in my error"
With a readership of 65 million in the United States the Huffington Post has placed Lough Erne Resort in the spot light big time and brings Huffington Post Travel Ireland to life in readers minds!  Well done to all at Lough Erne.
To read the full Huffington Post Article Click Here
For Information on Lough Erne Golf Click Here

South (Province of Munster) Ballybunion Golf Club Dingle Golf Links / GC Ceann Sibéal Dooks Golf Club Fota Island Resort Golf Courses Killarney Golf and Fishing Club Lahinch Golf Club ...
Read More

→

1. Portmarnock Old 2. Royal County Down 3. Royal Portrush Dunluce 4. Waterville 5. Lahinch Old 6. Ballybunion Old 7. Tralee 8. County Louth (Baltray) 9. The European Club 10. ...
Read More

→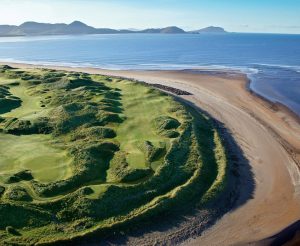 Waterville Golf Links situated on the breathtaking Ring of Kerry is championship links at it's very best and Waterville continues to impress our visitors year after year.  Read one of ...
Read More

→