Born in Dublin in 1923 Behan was a poet, novelist and playwright who penned works in the Irish and English languages.  He died on 20th March 1964 at the age of 41, a decade after his first play "The Quare Fellow" was produced in Dublin. Other well known works of Behan's  include the Play "An Giall" which was later adapted for the English language titled "The Hostage" and the bestselling novel "Borstal Boy" an autobiographical work.
The General Post Office has issued a limited edition commemorative stamp to mark the 50th Anniversary of Brendan Behan's death.  The stamp features a vintage print of a portrait of the writer and also lists one of his most famous quips   "There is no such thing as bad publicity except your own obituary".
At Old Country Golf & Tours we have put together a selection of a few more of Behan's memorable quotes:
"The most important things to do in the world are to get something to eat, something to drink and somebody to love you."

"I only drink on two occasions — when I'm thirsty and when I'm not"

"When I came back to Dublin I was court-martialled in my absence and sentenced to death in my absence, so I said they could shoot me in my absence."

"No strangers here, just friends you haven't met!"
Click here to book your Ireland Tour and see the places that inspired many a literary great

South (Province of Munster) Ballybunion Golf Club Dingle Golf Links / GC Ceann Sibéal Dooks Golf Club Fota Island Resort Golf Courses Killarney Golf and Fishing Club Lahinch Golf Club ...
Read More

→

1. Portmarnock Old 2. Royal County Down 3. Royal Portrush Dunluce 4. Waterville 5. Lahinch Old 6. Ballybunion Old 7. Tralee 8. County Louth (Baltray) 9. The European Club 10. ...
Read More

→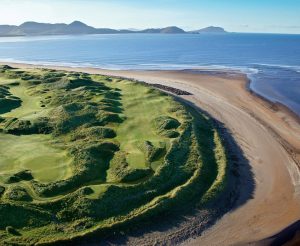 Waterville Golf Links situated on the breathtaking Ring of Kerry is championship links at it's very best and Waterville continues to impress our visitors year after year.  Read one of ...
Read More

→